Awards

© 2016 Friends of Green Cay

Starting in 2012, The Friends of Green Cay Nature Center, Inc. has awarded a one-time Environmental Scholarship to high school seniors intending to study any of the environmental sciences.

The Scholarship Committee consists of three former educators.


Friends of Green Cay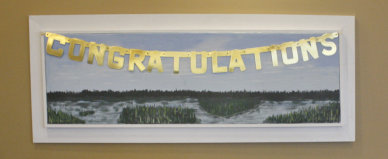 Casey Hudspeth
FAU High School
Dual enrolled in Florida Atlantic University Will attend: Florida Atlantic University
Major: Biological Sciences
National Merit Finalist
Volunteer at Gumbo Limbo Nature Center. Conducted research in the Galapagos Islands on the endemic Galapagos sea lions. Peer reviewed author in a scientific journal Casey looks forward to continuing her education to pursue a career in ecology, conservation, and rehabilitation.
It is a rigorous process. Students must show proof of acceptance to an accredited four year college or university, provide transcripts, demonstrate community service hours, obtain two letters of recommendation, and answer two essay questions, what do you think is the most important environmental issue facing us today and why, and has volunteer service made a meaningful impact in your life and education.

This year, scholarships were awarded to four winners. Each student will have $4,000 applied to their school accounts.

David Baldwin
South Plantation H.S.
Will attend: FAU/Wilkes Honors College - Flagler Scholar Triple major: Environmental Science; Chemical Engineering; Neuroscience Research intern at FAU -examining the biology of aggressive exotic, invasive plants leading to his studies of managing invasive fauna and their impact on climate change. David also is interested in chemical cycles and air pollution and neurological health effects on underserved communities.
Sophie Eldridge
Boca Raton Community HS. - Salutatorian
Will attend: Wake Forest University
Major: Environmental Science/Sustainable Studies Cambridge Scholar Award; AP Scholar with Distinction; Docent at Morikami Japanese Gardens; Member of Science National Honor Society Sophie intends her education to lead her to promote a sustainable future.
Jazmin Lopez
Glades Central Community H.S.
Dual enrolled in Palm Beach State College
Will attend: Florida State University
Major: Environmental Management in Agriculture and Natural Resources Recognized as a Borlaug Scholar by the World Food Prize Foundation and University of Florida. Member of Future Farmers of America; Florida Youth Institute for 2020. Jazmin will pursue a career to help farmers sustainably produce food while protecting the environment leading to lessening the food insecurity of many.